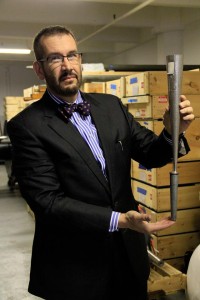 Chicagoan Jeff Weiler is passionate about the conservation and restoration of pipe organs. A graduate of Northwestern University with a Master of Music degree, Weiler has authored articles and reviews that have appeared in Theatre Organ, The Diapason, The American Organist, Choir and Organ, and In League. His commentaries on pipe organ related subjects have appeared in The New York Times, Wall Street Journal, and over National Public Radio. Weiler has been retained as consultant and project manager by numerous churches, universities, and symphony orchestras to survey, plan, and oversee pipe organ projects. He designed and supervised both the installation of the new organ for the Chicago Symphony, where he remains the organ's curator, and the restoration of the 100-rank Jacksonville Symphony organ. In addition, heassisted with initial planning and fundraising for the Cleveland Orchestra's organ project.
Jeff Weiler has acted as project superintendent, installation supervisor, voicer, tonal finisher, and curator for numerous new and historic pipe organ installations and restorations throughout the United States for builders including Casavant Frères; Randall Dyer; Quimby Pipe Organs; Schlicker; and Nelson Barden & Associates, et al. He also works jointly with Jonathan Ambrosino on many restorative and remedial voicing projects.
Recent work includes the tonal restoration of the Æolian-Skinner organs at the Groton School, the Church of the Advent (Boston), and Calvary Episcopal Church (Memphis, Tennessee)––all in regular collaboration with Jonathan Ambrosino; restoration and tonal finishing of vintage pipework for Nelson Barden & Associates; the restoration of the Skinner organ (Opus 528) at First United Methodist Church (Oak Park, Illinois), in collaboration with Spencer Organ Company, Inc.; and the restoration of the Skinner organ (Opus 208) at the Music Institute of Chicago. Among other projects, Weiler is presently working on a very careful historic restoration of Wurlitzer Opus 1097, originally installed in the Howard/Paramount Theatre, Atlanta, Georgia, in 1925.
Professional Activities
Restoration, installation, maintenance and tuning of historic church, concert, and theatre pipe organs
Voicing and tonal finishing of new pipe organs
Organ consultant to churches, symphony orchestras, colleges, and universities regarding organ restoration and new organ projects
Researcher and writer on organbuilding practices, organbuilders, and the historic use of pipe organs in churches, concert halls, schools, and theatres
Lecturer, presenter, archivist, and historian for educational/historical organizations such as the Organ Historical Society, the American Guild of Organists, the American Institute of Organbuilders, the American Theatre Organ Society, Northwestern University, and local historical groups and museums
Composer and performer of organ music, specifically organ scores for silent films (represented by Artra Artists Management, Inc., Chicago)
Compiled, edited, and oversaw production of 800-page book, The Wurlitzer Pipe Organ: An Illustrated History, for the American Theatre Organ Society (as an unpaid volunteer)
Pipe organ publications
Former editor, The Journal of American Organbuilding
Former editor, Theatre Organ
Education
(ABD) D. Mus. Northwestern University
M. Mus. Northwestern University, 1982
B. Mus. Coe College, 1981